Coffee Beans: House Blend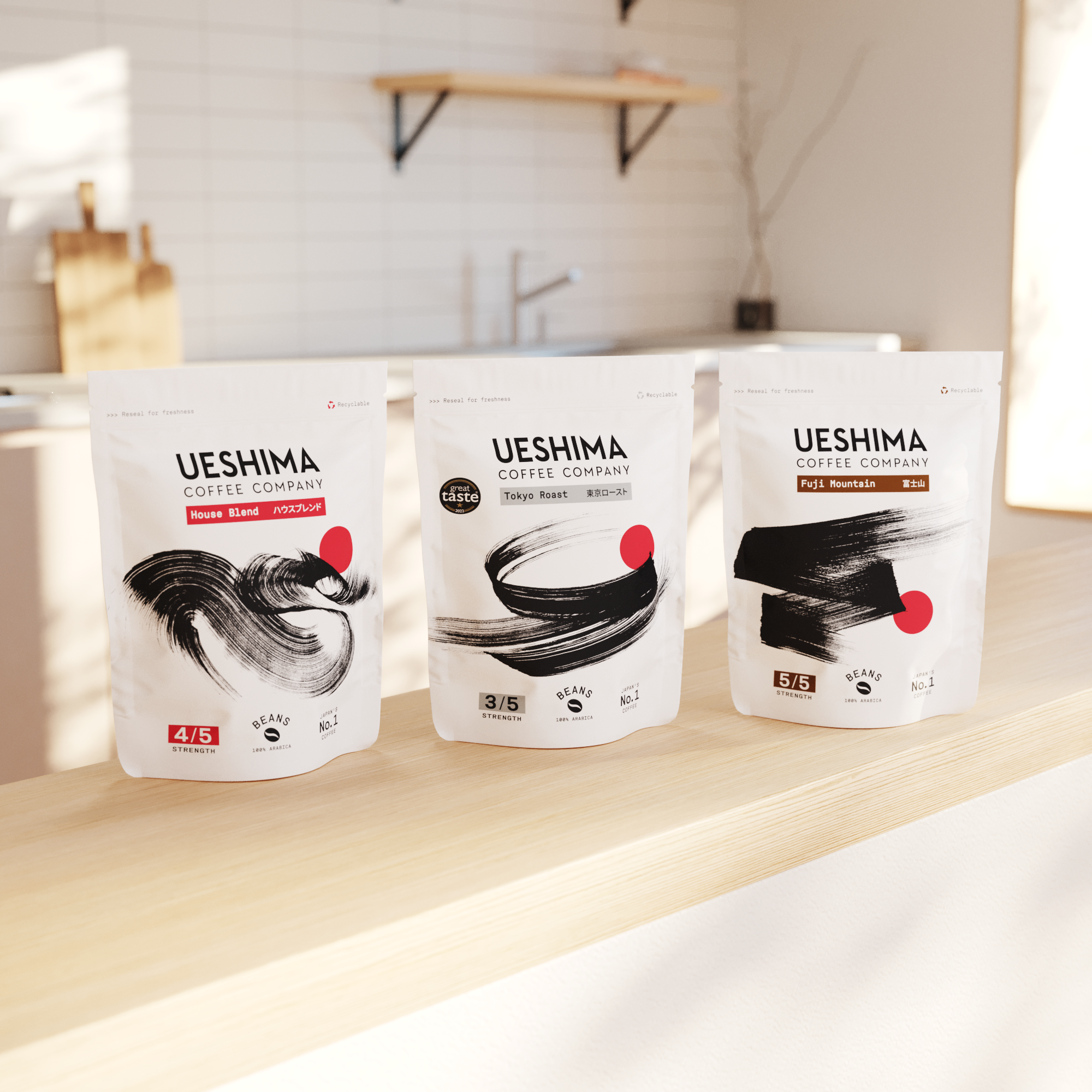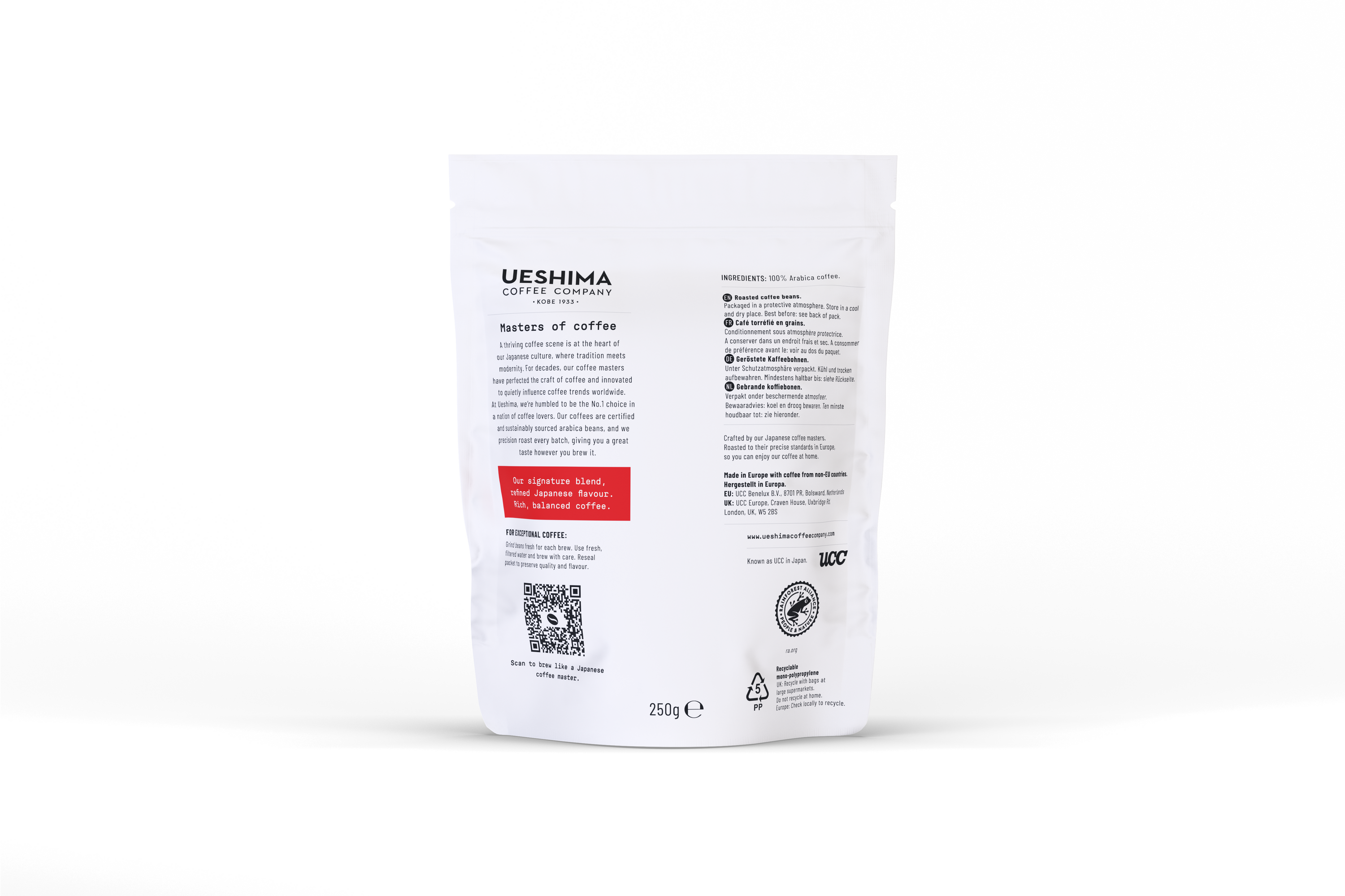 Rich Roast
Precision Roasted
Resealable Pack

Available in 250g and 500g
Strength:  1  2  3  4  5
Rich and balanced – discover the unique taste of Japanese craftsmanship with our signature blend. Ready to grind, brew and enjoy. 

Notes of caramel, granola and dark chocolate. Our House Blend is a balanced coffee with lower acidity, perfected over decades by our Japanese coffee masters.

Our House Blend coffee beans have been responsibly sourced from across the bean belt, the geographical area that sits between the two topics of Cancer and Capricorn. We have created blends - which will remain secret to preserve the work of our Japanese coffee masters - from our longstanding relationships with coffee farmers and cooperatives across different countries.
Our House Blend coffee beans are 100% certified by Rainforest Alliance - giving you assurance that your coffee is sourced from sustainable coffee producing communities.
The Rainforest Alliance is an international, non-profit organisation; working to protect forests, help improve the livelihoods of farmers and communities, and tackle climate change.
You can find out more about our sustainability commitments here.
Brew your coffee like a Japanese Coffee Master at home. For an authentic taste of Japanese coffee, we recommend brewing your Ueshima coffee using a V60 filter. Along with other filter methods, the V60 is a popular way to brew coffee and is used by Coffee Masters in many coffee shops across Japan. It's simple to use and delivers a perfect cup of coffee. For exceptional coffee, we recommend using fresh, filtered water.
After you have ground your coffee beans to your liking. Follow these simple steps.
Place your V60 over a cup or mug
Putt a filter paper into the V60 and pour over a little hot water to wet the paper, heat the cup and ensure the flavour isn't affected, then pour the water away
Add 15g of freshly ground coffee
Pour around 30ml of freshly boiled water into the coffee until it's wet all over
Pause and enjoy the moment for 30 seconds while the coffee 'blooms'
Slowly pour in another 220ml of water, gently moving in circles as you pour
Let the coffee finish brewing and drip through the filter into the cup. This should take 1-2 minutes
Remove the filter and the V60 from the cup
Serve, share, and enjoy your perfectly brewed cup of coffee
To keep your coffee fresh, always reseal the pouch and store in a cool, dry, place.
Our entire range is recyclable – either through your kerbside collection (cardboards and coffee bags) or through our partnership with Podback*.
Find out more on Our Packaging page.
*UK only.
We ship our coffee to any address in the UK, including Northern Ireland. At the moment, we are unable to ship outside of the UK.
We use Royal Mail or DPD to carefully deliver our coffee to you.
We believe in fair shipping costs – these are calculated automatically dependent on weight at checkout.
Our standard shipping is Royal Mail 48 hours untracked. Our rates vary dependent on weight. For orders up to 1kg we charge £2.50, for orders over 1kg we charge £2.90.
We offer free shipping on all orders over £20. This will be applied automatically at checkout.
Coffee is a perishable natural product, so we are unable to accept returns on coffee orders. If there has been an error with your order, please contact us at orders@ueshimacoffeecompany.com within 28 days of your purchase quoting your order number.
For further details on delivery, returns and cancellations please head to our Shipping & Delivery page.